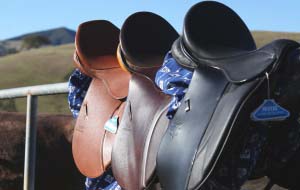 Welcome to David Dyer Saddles
David Dyer Saddles is one of the leading saddlery businesses in the UK. Buying the best saddlery equipment couldn't be easier. Simply browse our extensive online shop for the best service and prices.
We also offer a saddle fitting service at Frogpool Manor Farm or David can visit your yard; coverage includes the whole of Kent and most of Essex, Surrey and Sussex.
Call David Dyer on 07714 158986 for more details.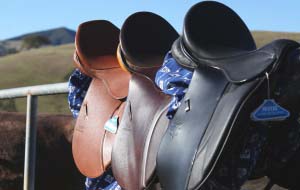 Expert Saddle Fitters for Kent, Surrey, Sussex and Essex.

Helping you select the best saddle for your horse.
The saddlery has a huge range of new and second hand saddles which can be fitted by our qualified, experienced staff either at your yard; covering Kent, Surrey, Sussex and Essex, or here at Frogpool Manor, using the 20m x 60m floodlit sand school.
Our 'saddlery workshop' offers a high quality saddle repair and reflock service on site.


Find us at Frogpool Manor Farm

David Dyer Saddles Ltd
David Dyer offers saddle fitting at Frogpool Manor Farm. There is a 20m x 60m arena with show jumps. This has the added bonus of the full range of saddles to hand. Situated on the junction of the A20 and A222, David Dyer Saddles is just 5 minutes from junction 3 of the M25 or only 20 minutes from London by train.

Don't forget we can also fit your saddle throughout Kent, Surrey, Sussex and Essex.

prev
next
SALE Pessoa Amo Show Jump Saddle SALE

Sale Saddles
Was £1495 now £799!

SALE Jeffries RS Jumping Saddle SALE

Jeffries GP, XC & Jump Saddles
50% Off! 1 only!

£750.00

More info

SALE Stubben Siegfried CS Saddle

Weekend Offers
A massive saving of £400

SALE GFS Pro Event Saddle SALE

Sale Saddles
SALE was £999 now £699

£699.00

More info

SALE Stubben Edelweiss CS Jnr Jumping Saddle SALE

Sale Saddles
Save over £400!

£599.00

More info

SALE Ideal Event Standard Seat VSD SALE

Sale Saddles
25% Off! 1 only!

£841.50

More info

SALE Wintec 500 Close Contact Jump Saddle | Cair® SALE

Sale Saddles
One only!

£199.00

More info

SALE Frank Baines Omni Low Head Dressage Saddle SALE

Sale Saddles
SALE was £1750 now £999

£999.00

More info

SALE GFS Covered Stirrup Leathers

Sale Accessories
Sale, 50% off!

£24.99

More info

SALE Ideal Apollo Jump Saddle SALE

Sale Saddles
50% Off! 1 only!

£628.50

More info

SALE Ideal Josephine Saddle SALE

Ideal Show/Show Hunter Saddles
30% Off! 1 only!

£807.10

More info

SALE Barnsby Haflinger General Purpose Saddle SALE

Sale Saddles
Was £1250 now £799!

SALE | Wintec 500 Wide All Purpose Saddle | Cair® | sale

Sale Saddles
Only 1 of each size available!

£150.00

More info

SALE | Wintec 500 All Purpose Saddle | SALE

Sale Saddles
Only 1 of each size available!

£150.00

More info