Kieffer Lusitano Evo|Exclusive Tree with Double Leather
Dressage saddle 'Lusitano Evo' is an advancement of Kieffer's classic model 'Lusitano' which has been popular for many years. Its large, straight knee roll provides optimal support for riders of all sizes with different heights. This makes this saddle attractive for competition riders as well as for riding schools or horse sharing. The new flexible, modular system enables almost every rider to find a perfect fitting saddle. 'Lusitano Evo' is being offered with a saddle tree in three variations and four different panel variations plus one girthing variant to make it suitable for a variety of horse breeds.
Expert's view
This saddle is beautiful in the double lined leather, it makes it soft and grippy.

Available in:

black, black trim, black stitching
black, black trim, white stitching
black, brown trim, brown stitching
brown, brown trim, brown stitchin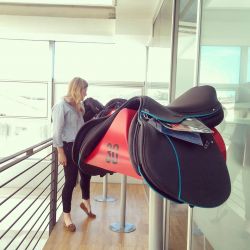 Charlie Fuller
General Manager
View profile
Product FAQs
This saddle comes as standard with the anatomically deep seat, but can also be ordered with the 'deep seat'. The Exclusive tree can be adjusted on a cold pressure machine, this allows lots of saddler fitters to adjust the width of the saddle onsite, rather than having to take the saddle back to the workshop and heat the tree up before adjusting the width.